Cash Report Form
Once your Fair is over, you'll need to complete a Cash Report Form in order to claim your free books.
The easiest way to do this is complete it online – all of the calculations are done for you and you can start spending in our online Scholastic Shop straight away.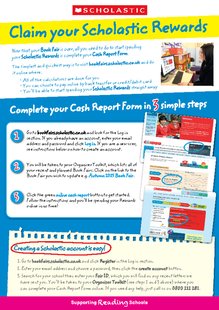 To get started, download our guide.
You'll need your Fair ID (which is on any letter we send you). Then you can log into the Organiser Toolkit.
You may also receive a paper Cash Report Form in your Planning Kit. If you have any questions, please call us on 0800 212 281. As it is a secure document, we cannot make it available for download.