Free Resources - Getting Started Secondary
Getting Started
Is this your first time running a Book Fair? Or are you a seasoned organiser, simply looking for some new ideas? Whatever your aims, we have everything you'll need to plan and run a G.R.E.A.T. Book Fair. Looking for printable copies of essential resources you'll need for your Book Fair? Click here to view all resources.

The Organiser's Guide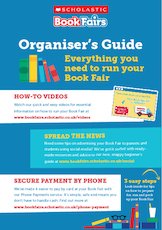 The Organiser's Guide is an essential overview of the best tips and tricks for running your Book Fair. Taking you from preparing for your Book Fair all the way to packing up and paying, it is the best way to get ready for your Fair.
Your Book Fair Timeline
A more detailed version of the Organiser's Guide, the Book Fair Timeline takes you week-by-week through how you should prepare for your Book Fair. Remember, if you're ever feeling unsure about how best to prepare for your Book Fair, our dedicated customer service team are here to help – just give us a ring on 0800 212 281.

A G.R.E.A.T. Book Fair
Whether you're an expert at running Book Fairs or about to host your very first one, following the G.R.E.A.T. structure for planning your Fair will make the experience as easy and as fulfilling as possible. G.R.E.A.T. is a tried-and-tested solution on how to plan, promote and run a great literacy event for the whole school. You can use the links below to find out more about each of the steps in G.R.E.A.T. and to download the best resources for each step.
Essential Book Fair Resources: