Parents
A Book Fair is a week-long reading event that brings the very best in children's books to your child's school. Click the links below or scroll down the page to browse.
---
Browse the Book Fair range
Every Travelling Book Fair brings hundreds of the very best books to your school, all carefully handpicked by our team of experts.
You browse some of our highlights on our website.
Payment at your Book Fair
Gift Vouchers
Book Fair Gift Vouchers are the simple, secure way to ensure your child gets the books they want when the Book Fair arrives and are perfect if you can't make it to the Book Fair. Your child's school will earn Rewards for free books on the full value of the voucher.
Once a purchase has been made, you will receive the voucher in an email which can be printed and given to your child – much safer to carry than cash! Vouchers can be purchased up until midnight on the day before the collection of the Book Fair. Please speak to your school to confirm the Book Fair dates.


You can now pay for your books online
Once you have chosen your books, you can also pay using our secure parent payment system. Search for and select your school here to make a payment.
Once payment is complete, please inform your school of your payment reference and details of the books you would like to buy.
Reading tips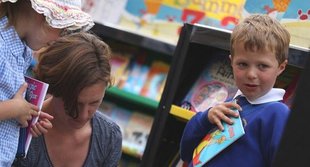 Did you know, children are five times more likely to finish a book that they have chosen themselves? This makes a Book Fair the perfect place for a reluctant reader to find their feet with books.
When a child's imagination is captured by a book, you want to nurture it, nourish it and, above all, keep that spark alive. That's where our handy Reading Lists come in, meaning you'll always have a reading recommendation to hand when enthusiasm strikes.
Find out more about Reading Lists
---
FAQs
1. Can I buy books at the Book Fair with a credit card?
If your Book Fair has a card reader, then yes, you can pay by Mastercard, Visa or Maestro.
2. Can I buy pre-paid Book Fair Gift Vouchers?
Yes! You can buy pre-paid Book Fair Gift Vouchers on the Scholastic Shop. Simply pay online, receive your voucher by email, print and spend! Our Book Fair Gift Vouchers are convenient and are a great way to avoid cash or credit at your Book Fair. If you have any questions about Gift Vouchers, please contact Customer Services on 0800 212 281.
3. Who should cheques be made payable to?
Cheques should be made payable to the school.
4. Can I pre-pay for books and collect them when the Book Fair arrives?
You are welcome to do this in discussion with your school's Book Fair Organiser but our online Click and Collect service has now been discontinued. You will be able to order any books from the Book Fair so our best advice is to pop along when it opens and place any orders then.
5. What time will the Book Fair be open?
This depends on the school. Most open at the end of the school day however please check beforehand as each school arranges their own opening times.
Have any other questions? Let us know!
---
---