Teens go free!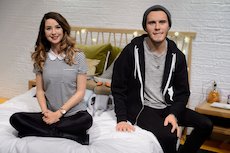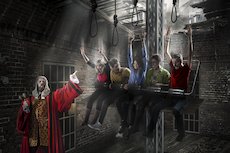 Step inside and be immersed in the world of famous fun, from Bollywood to Hollywood, music to sport, social to stardom at Madame Tussauds or see, hear, feel and (ahem) smell the chillingly amusing characters of the 'bad old days' as they come to life before you at The Dungeons.
To use, simply cut out the two free Child Tickets from your invitation or download and print the online version to get twice the fun!
TERMS AND CONDITIONS
Please read these carefully. The Voucher entitles the holder to one FREE ENTRY per Voucher and per full paying adult. 1. If the holder of the Voucher buys a fully priced Adult entrance ticket at the Attraction entrance to Madame Tussauds London, Madame Tussauds Blackpool ("Madame Tussauds"), The London Dungeon, The York Dungeon, the Edinburgh Dungeon, the Blackpool Dungeon ("The Dungeons"), then s/he may take with him/her ONE CHILD who will enter the same Attraction on the same day free of charge. PLEASE NOTE: You cannot book online or over the phone when using your Voucher; in order to use the Voucher you must purchase your ticket at the chosen Attraction. Voucher is not valid for use in conjunction with any other offer, concession or online/call centre booking. The Voucher has no cash value. The Voucher is automatically void if sold, offered for sale or if any attempt or offer is made to transfer the Voucher for value. 2. Voucher is valid UNTIL August 31st 2019. Offer is not valid at any secondary ticketed events at all Attractions during the promotional period. 3. Check opening dates and times before your visit on the relevant attraction website. Please note, you cannot book online/via the telephone when using your voucher. All dates are subject to change. 4. Please be aware that The London Dungeon is very popular and will require you being booked into an allocated time slot on your day of visit. 5. Failure to present and surrender the Voucher to admissions upon arrival will result in an additional charge for one (1) full priced standard admission for the second ticket issued. 6. The Voucher is not valid at Secondary Attractions including, but not limited to LATES at The London Dungeon. Voucher can only be used for standard entrance tickets and cannot be used for priority entrance and or Fastrack entrance at all Attractions. The Voucher is not valid for any combination tickets. 7. The Voucher remains the property of Merlin at all times and Merlin reserves the right to take possession of the Voucher at any time. The Voucher must be presented at the Attraction entrance and surrendered. Vouchers cannot be presented on electronic devices. 8. Adult is 16 and over at all Attractions. 9. Entry is free for children aged under 3 at all Attractions. 10. Visitors aged 15 years and under must be accompanied by a person aged 18 and over at the Attractions. PLEASE NOTE: We recommend the Dungeons for children aged 12 and over. 11. Voucher can only be used as stipulated. The Voucher is non-transferable/not for resale. Any purported transfer or sale of the Voucher will render it void. Voucher is only valid in the United Kingdom. Photocopies will not be accepted. Admission prices are subject to change. Voucher cannot be used in-conjunction with any other offer or concession (e.g. senior citizens, family tickets), reward/loyalty program, pre-purchased tickets, Combination tickets, 2 Day Pass, Annual Pass, online tickets, Fastrack tickets, rail inclusive offers, on secondary ticketed events, hotel events or concerts or for Group/advance bookings. 12. Only one Voucher can be used per person and per transaction. 13. All of the Attractions reserve the right, in their absolute discretion, to refuse entry and to close and/or alter all or any part of the facilities including closure of rides and/or Attractions and removal of figures for technical, operational, health and safety or other reasons including over capacity. 14. Features and/or creatures shown on the Voucher are not necessarily available at every Attraction. Any images shown of Madame Tussauds depict wax figures created and owned by Madame Tussauds. 15. Size, height, weight, age restrictions and medical warnings apply to certain rides and/or Attractions. 16. All Attraction information is subject to change; please check the Attraction websites(s) below before your visit for the latest information. Please note: you cannot book online or over the phone when using your Voucher; in order to use the Voucher you must purchase your ticket at the Attraction entrance. 17. For further queries on Voucher terms please call 0871 423 2190 (calls cost 13p per minute plus network extras). For Attraction information please visit www.thedungeons.com or www.madametussauds.com. 18. Entry into any participating Merlin Attraction will be subject to the individual Attraction's terms and conditions of entry, which can be found on the websites listed above. Exclusions apply.