What schools say about Travelling Books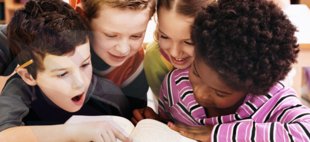 "The children have been coming to me and telling me about the books they have bought and it's a delight to see how their enthusiasm has been sparked by the whole experience," Rachel, Manor Lodge School, Herts.
"The Book Fair was a terrific event and we are extremely pleased with the number of books we sold. Our reps were very organised and professional." Lockers Park School, Herts.
"Many thanks for the great service you provide… You are all so friendly and helpful and a real joy to work with." Susan & Shirley, Kelvinside Academy, Glasgow
"Just brilliant and couldn't be easier. We have already booked for next year!" All Hallows School Bath
"Thank you for the wonderful books at our Book Fair. There was a great variety and the children, staff and parents loved browsing and buying the books." Catherine, English co-ordinator, Tamworth
"Really pleased with the Book Fair, couldn't have asked for better!" Mel, Literacy Co-ordinator, Folkestone
"Thank you for the wonderful choice of books in the book cases. They helped greatly towards making our Book Fair a tremendous success!" Joan Brown, Book Fair Organiser, Shipley
"Thanks again for an absolutely superb selection of books – the best yet – and continued exceptional personal service." Mrs Inverarity, Librarian, Morpeth
"Your professionalism with a personal touch, made the Book Fair an enjoyable worthwhile and easy experience." Larry Macdonald, Book Fair Organiser, Our Lady's Primary School, Belfast
"Your service is amazing. I recommend you all the time." Sue Mannering, Librarian, Rose Street CPS, Sheerness
"Travelling Books is much more than just a Man with a Van. Our takings are the best ever." R. Scanzio, Librarian, London SW9
"Once again we had a brilliant Book Fair and both the parents and children commented on the excellent selection of books." Gill Clarke, Book Fair Organiser, Balsham
"Range of books was very good, personal service much appreciated." S. Allen, Book Fair Organiser, Dudley
"The Book Fair just gets better year in year out, and again, Travelling Books have provided us with exciting titles and more books to choose from than ever before." Heather Longmuir, Book Fair Organiser, Banchory
"We liked the selection and found lots of interesting authors we had not heard of before. The children enjoyed discovering a different range of fiction." Book Fair Organiser, Chelmsford
"The range of books was impressive. Just what we wanted!" S. Matthews, Book Fair Organiser, Shrivenham