COVID-19 - Frequently asked questions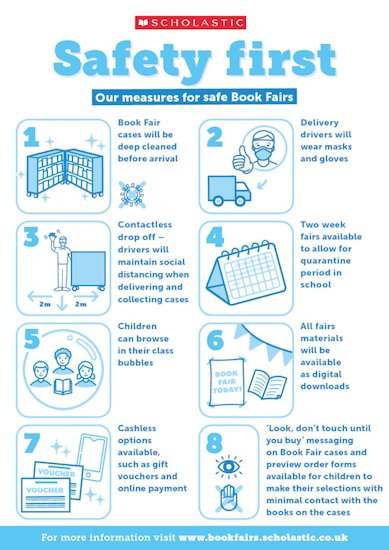 Safety First
We have put a number of safety measures in place to ensure you can run your Book Fair safely this term. Download our Safety First Infographic to and read the FAQs below to learn more.
If you have any concerns or questions, please email us at info@scholastic.co.uk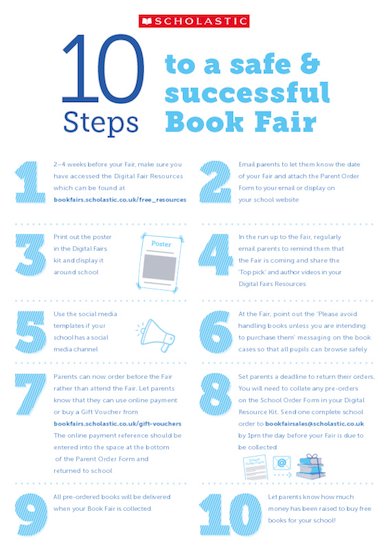 10 Steps to a Safe and Successful Book Fair
Check out our 10 steps to a safe and successful Book Fair during COVID-19 – this downloadable infographic covers everything you need to know, taking you from preparing for your Book Fair all the way to packing up and paying.
Q: Can I book a book a Fair with you for later in the year?
A: Yes. If you would like to arrange a Book Fair with us, please email us at info@scholastic.co.uk or call us on 0800 212 281.
Q: I need to move my Book Fair as I'm not sure if my school will be able to run it.
A: If you have a Fair booked for the Autumn term, we will be contacting you to confirm your dates as soon as possible and can discuss any date adjustments that need to be made.
Q: How do I pay for my Book Fair?
A: This may be completed online using a credit card, Bacs or by sending a cheque in the post. You must be registered on the relevant website to complete the paperwork online
Q: I have purchased a gift voucher but the Fair has been cancelled, where can I redeem it or can I get a refund?
A. If you have a Book Fair gift voucher this will be valid on a future Book Fair. If you do not have a future Book Fair please email us at: info@scholastic.co.uk.
Q. What do I do if my Rewards expire?
A. We will honour rewards expiring during the period of school closures.
Q: Is there any other way to offer parents/children books during this period?
A: Yes – you can still offer your parents and children access to great books during this time. You can set up a Scholastic digital Book Club and parents can order online and request delivery to home. You will still earn Rewards for your school on every order placed this way. For more details please go to: shop.scholastic.co.uk/bookclubs
If you have any further questions please email us at info@scholastic.co.uk.
---