Book Fair Takeover - Resources - Before your Fair
Before your Book Fair

We want Book Fair Takeover to be as simple as possible for you to run. To that end, we have provided all the resources you could possibly need to make your Book Fair Takeover a huge success. As well as Job Profiles, CV templates and teaser posters, don't forget to take a look at the Teacher's Guide, which includes a detailed timeline and checklists for you and your Takeover Team to follow before, during and after your Book Fair.
Planning
Download the Book Fair Takeover Teacher's Guide, your essential guide to Book Fair Takeover: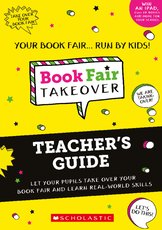 Job profiles
Review the individual job profiles to see how your volunteers can get involved: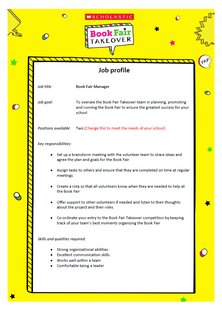 Advertise the jobs
Build excitement and advertise for volunteers with these posters/handouts: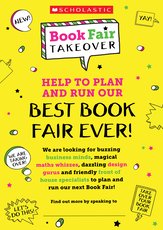 Book Fair Takeover volunteer poster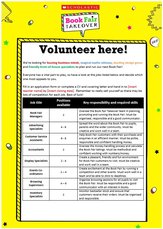 Job advertisement
Tell parents and students about your upcoming Book Fair Takeover in your school's newsletter or by posting about it on Twitter or Facebook! Download these free images to ensure your post is as eye-catching as possible.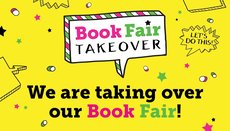 Download the free
Book Fair promotion image
You can even add information about your upcoming Takeover using MS Paint with the editable Book Fair promotion image.
Download the free editable Book Fair promotion image
Job application
Ask your pupils to apply for the jobs that appeal to them using the following resources: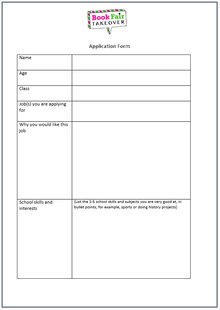 Other
Use this staffing rota to let your volunteers know when they are needed at the Book Fair.
Create badges for your Book Fair volunteers using this template

Return to the Book Fair Takeover Resources page